WELCOME TO GRIPSTONE COLORADO SPRINGS
WEEKDAYS: 12 PM – 10 PM 
WEEKENDS: 10AM – 8PM
TUESDAY, WEDNESDAY, THURSDAY: 6 AM – 12 PM 
WEEKENDS: 8 AM – 10 AM
First visit with us? Find out more about the gym and our check-in process.
All Visitors must have a current, signed liability waiver on file with Gripstone.
Interested in honing your climbing skills? Book a class today.
Don't wait to start your holiday shopping, both 5 and 10-day punch passes are 25% off at the gym only. Get them before they are gone! 
(Sale ends December 9th)
With a membership at Gripstone, you can PUSH YOUR LIMITS and achieve new heights. We have different membership options suited for everyone, and with no initiation fees, you can get started today.
NO MEMBERSHIP, NO WORRIES
Day passes can be purchased at the front desk
Day Pass
Gear not included
Discount Pass
Restrictions apply
Discount Pass+
Restrictions apply
Discounted day passes are only offered before 2 PM and after 8 PM on weekdays and after 6 PM on weekends
Day Pass+ includes a harness, shoes, and chalk.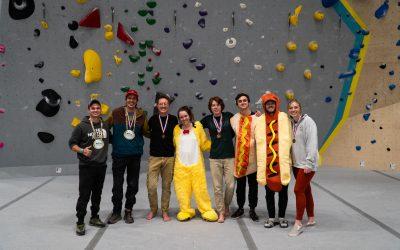 CONGRATULATIONS TO THE CLIMBING LEAGUEWe want to give a huge shout-out and thank everyone who...
SEE WHAT OTHERS ARE SAYING
Logan Meyer
23 April 2023
Gripstone is the best (indoor) climbing in town! I'm biased in part by location, but the routes are constantly fresh, the holds are always cleaned between sets and the staff is the best!
Melody Christian
23 April 2023
Really great wall options for kids AND adults! We loved it.
Christopher Guepe
4 April 2023
Cleanest and nicest gym in the area. The membership fees are more expensive but everything is cleaner, nicer and newer. There is a lot of parking, which is very very important, people don't talk about that enough. Also the lighting is very bright, which is also important, a lot of gyms have bad lighting. Also it's not always over crowded, it's easy to move so you don't kick a child in the head that's running around while climbing.
I liked the facility! Gets busy on weekends
Nichole Anderson
28 March 2023
I have my 12yo daughter and 9yo son attend. We started with their after-school class and now have a membership. The staff are amazing, especially with my 9yo son. He has ADHD as well as ODD and gets easily frustrated. During one class he had an especially hard time and when I cam around the corner to see what was going on I saw my son on the floor having a meltdown and one of the instructors with him, reassuring him, telling him it's okay, and just doing an excellent job of diffusing the situation, showing support and seeing my son for who he truly is. This experience alone was enough for me to want my kids here as long as they want. Sincerely, this experience moved me to tears. We've tried other activities, and he would always get discouraged because of the staff not understanding him, so from the bottom of my heart, thank you. He loves climbing and really loves this place.
I went here with my 3 kids for the first time, and we had a blast. I had a groupon, which was what got us through the door. I was really happy with the atmosphere. Some climbing gyms you walk in and immediately feel judged for even thinking about climbing. Haha, I didn't feel that here. Plus, we went mid day on a Saturday, and it wasn't crowded at all! The building is clean, open concept, and overall, just a pretty rad spot. We will definitely be back!
Robert Cotterman
19 March 2023
The layout is extremely safe, and you feel comfortable. Unlike city rock where a 100 climbs intertwine and you swing wildly to the side on some climbs. Gripstone is the best for belay climbing. Recently they added a second bouldering section. So it now compares to any other gym in Bouldering as well.
Alyson LaVerne
16 March 2023